What is the Big Green Egg ?
A world of infinite culinary possibilities
In Cyprus, the internationally acclaimed barbeque Big Green Egg – the ultimate outdoor cooking experience- can be found exclusively at our Foodsaver stores. The blending of ancient wisdom with modern technology is what makes the Big Green Egg unique. Ideal for grilling, stewing, oven cooking, slow and low baking and smoking.
Its History
The idea behind the Big Green Egg barbeque goes as far back as the 3rd century when the 'kamado'', a type of clay cooking device, appeared in Japan. 'Kamado'' comes from the word 'mushikamado'' (mushi meaning steam and kamado the word for, oven). This type of barbeque was mainly used for cooking steamed rice in a domed shape.
Technology
The effectiveness of the idea of a domed barbeque lies in the specific shape and the flow of the air within the barbeque. Big Green Eggs are made of a highly durable ceramic that can hold temperatures of up to 650⁰C while their exterior layer protects against the elements. A great advantage of the Big Green Egg is that it uses charcoal, an economic solution that preserves and even enhances the taste in your food. Thanks to their construction, the cleaning of Big Green Eggs proves to be an extremely easy process since the charcoal is transformed into ash, which is then easily removed from a specific point situated in their lower body.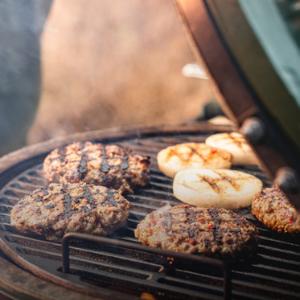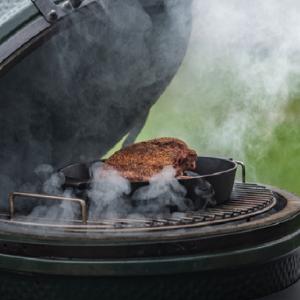 The Benefits
Big Green Egg barbeques stand out for their incredible benefits:
Easy to use – Cooking temperature is reached within just 15 minutes. The ceramic surfaces maintain a steady temperature, which circulates within the Egg.
Multifunctional – Big Green Eggs have multiple functions since they combine the art of smoking, grilling and oven baking within one single 'egg'!
Safety –Its extremely easy use and the whole logic behind its construction constitutes it extremely safe to handle.
Endurance – The Big Green Egg can handle temperatures ranging from minus 30⁰C up to over 400⁰C. Its ceramic surface is not affected by the elements.
Design – An outstanding design, special, unique.